Philly cheesesteak flatbread takes a quick u-turn  on the classic Philly cheesesteak sandwich. I have been to south Philly and tried both Pat and Genos. Personally preferred Pat's but I don't want to start a feud or anything.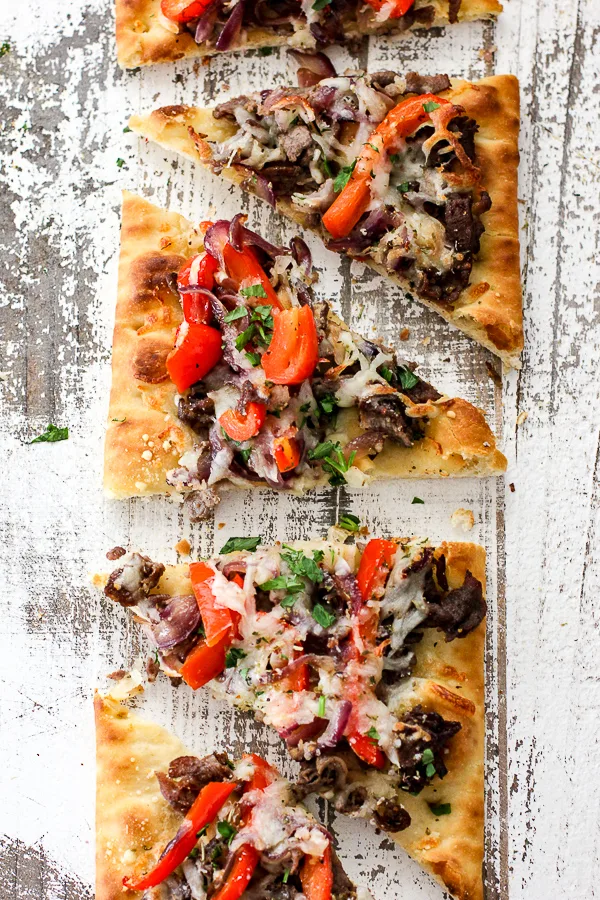 Philly Cheesesteak Flatbread
Philly cheesesteak flatbread puts a new twist on the venerated Philly cheesesteak sandwich. Instead of the bun style roll, I use flatbread.PREP TIME30 minutesCOOK TIME8 minutesTOTAL TIME38 minutes
Ingredients
1/4 cup olive oil, plus 1 tbsp
1 clove garlic, peeled and crushed
2 precooked flatbreads
1 (12 oz) pkg frozen Philly cheesesteak meat, such as Gary's Quick Steak
1 bell pepper, cored and thinly slice
1 red onion, thinly sliced
salt
pepper
1/2 tsp seasoned salt
1 1/2 cup pizzaria blend shredded cheese
2 tbsp grated parmesan cheese
1 tsp pizza seasoning or Italian seasoning
chopped fresh parsley, if desired
Instructions
Preheat oven to 425 degrees.
Combine 1/4 cup olive oil and garlic in a small microwave container.
Microwave on high for 30 seconds and then let oil sit while your prepare the rest of the ingredients.
Heat remaining tbsp of olive oil in a skillet over medium heat.
Add bell pepper and onion, season with a pinch of salt and pepper.
Saute until veggies are soft and starting to brown, about 10 minutes.
Remove veggies from pan and set aside.
Increase heat to medium high and add frozen steak to pan.
Sprinkle with seasoned salt.
Cook on one side for 2-3 minutes.
Flip meat over and start to break up with a spoon.
Once meat is cooked through, remove from pan.
Brush crusts with garlic oil.
Evenly divide steak between the flatbreads.
Evenly divide pepper and onion between the flatbreads.
Top each flatbread with 3/4 cup of the the shredded cheese and 1 tbsp each of the parmesan cheese.
Bake flatbreads directly on the oven rack in preheated oven for about 8 minutes, until cheese is melted and crust is crispy.
Sprinkle with pizza or Italian seasoning and parsley.
Slice and serve.
Notes
My favorite flatbread is from Trader Joe's. You can also use 2 12 inch pre-cooked pizza crusts for this recipe.
Nutrition Information:
YIELD:
6
SERVING SIZE:
1
Amount Per Serving: CALORIES: 574TOTAL FAT: 32gSATURATED FAT: 13gTRANS FAT: 0gUNSATURATED FAT: 15gCHOLESTEROL: 108mgSODIUM: 931mgCARBOHYDRATES: 35gFIBER: 3gSUGAR: 3gPROTEIN: 36g