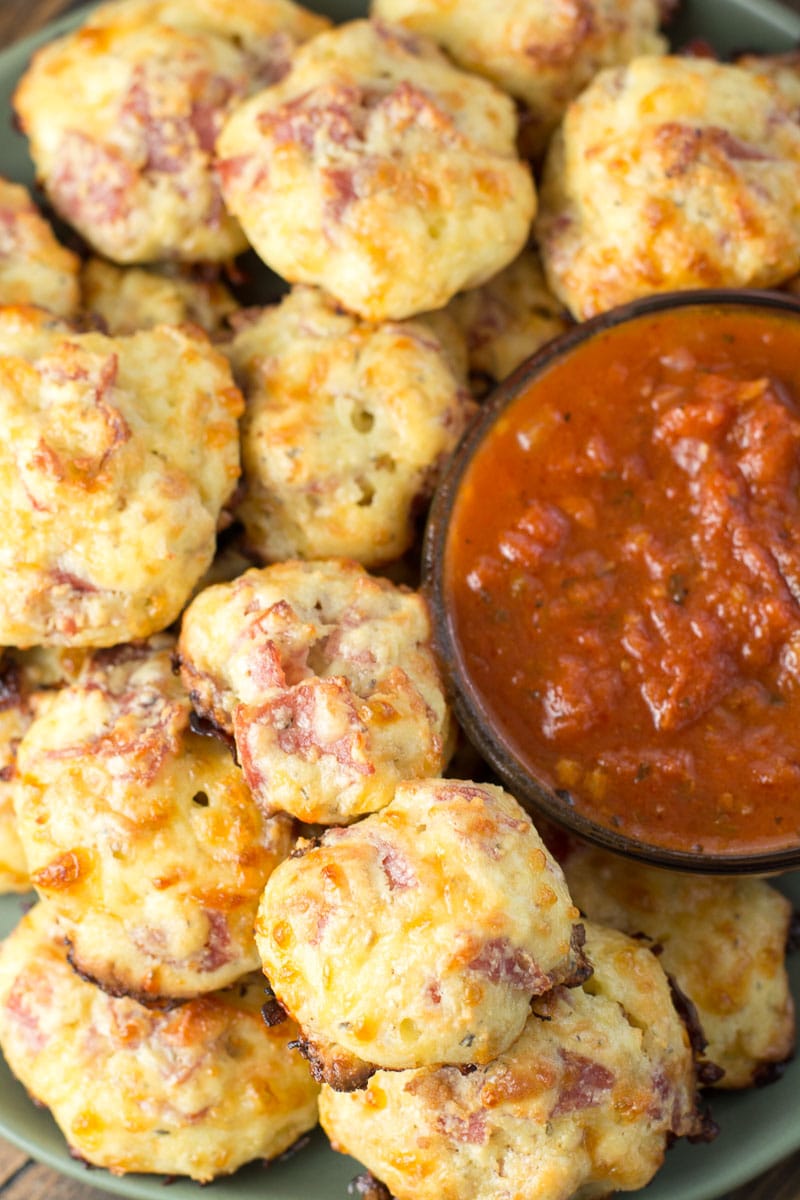 yield: 30 prep time: 10 MINUTES cook time: 20 MINUTES total time: 30 MINUTES
These Keto Pepperoni Pizza Bites are bursting with pepperoni and mozzarella cheese! At one net carb each, these make the perfect low-carb lunch!4.4 Stars (250 Reviews)PRINT
Ingredients
2 cups chopped or sliced pepperoni
4 ounces cream cheese, softened
1/3 cup coconut flour
1/2 teaspoon baking powder
1 teaspoon minced garlic
1 teaspoon Italian seasoning
3 large eggs, beaten
1 1/4 cups shredded mozzarella
Instructions
Preheat oven to 350 degrees F.
Combine cream cheese, pepperoni, shredded cheese and eggs until completely combined.
Add in remaining ingredients until well combined and chill 10 minutes to allow the flour time to absorb the moisture. If after 10 minutes there is still a considerable amount of moisture, chill another 10 minutes.
Drop onto a greased baking sheet (I like to use the silicone baking mats) using a small cookie scoop.
Bake 18-20 minutes until golden brown.
Notes
Chill time: If you skip chilling the dough they will flatten as they cook and not be nice round balls.
Coconut flour: Almond flour can be used in place of coconut flour, but the bites wil not be as light and fluffy.
Servings: This recipe made 30 pizza bites for me, but that will depend on the size scoop you use and how tightly you pack them.
Recommended Products
As an Amazon Associate and member of other affiliate programs, I earn from qualifying purchases.
Anthony's Organic Coconut Flour, 4lbs, Batch Tested Gluten Free, Non GMO, Vegan, Keto Friendly
AmazonBasics Silicone Baking Mat Sheet, Set of 2
Nutrition Information:
SERVING SIZE: nutrition calculated per pizza bite
Amount Per Serving: CALORIES: 109TOTAL FAT: 8.9gCARBOHYDRATES: 1.5gFIBER: 0.5gPROTEIN: 5.5g