Keto creme caramel is an elegant low carb dessert that you can make with just 5 ingredients! This easy keto flan is deliciously creamy and has only 1.7g net carbs per serving.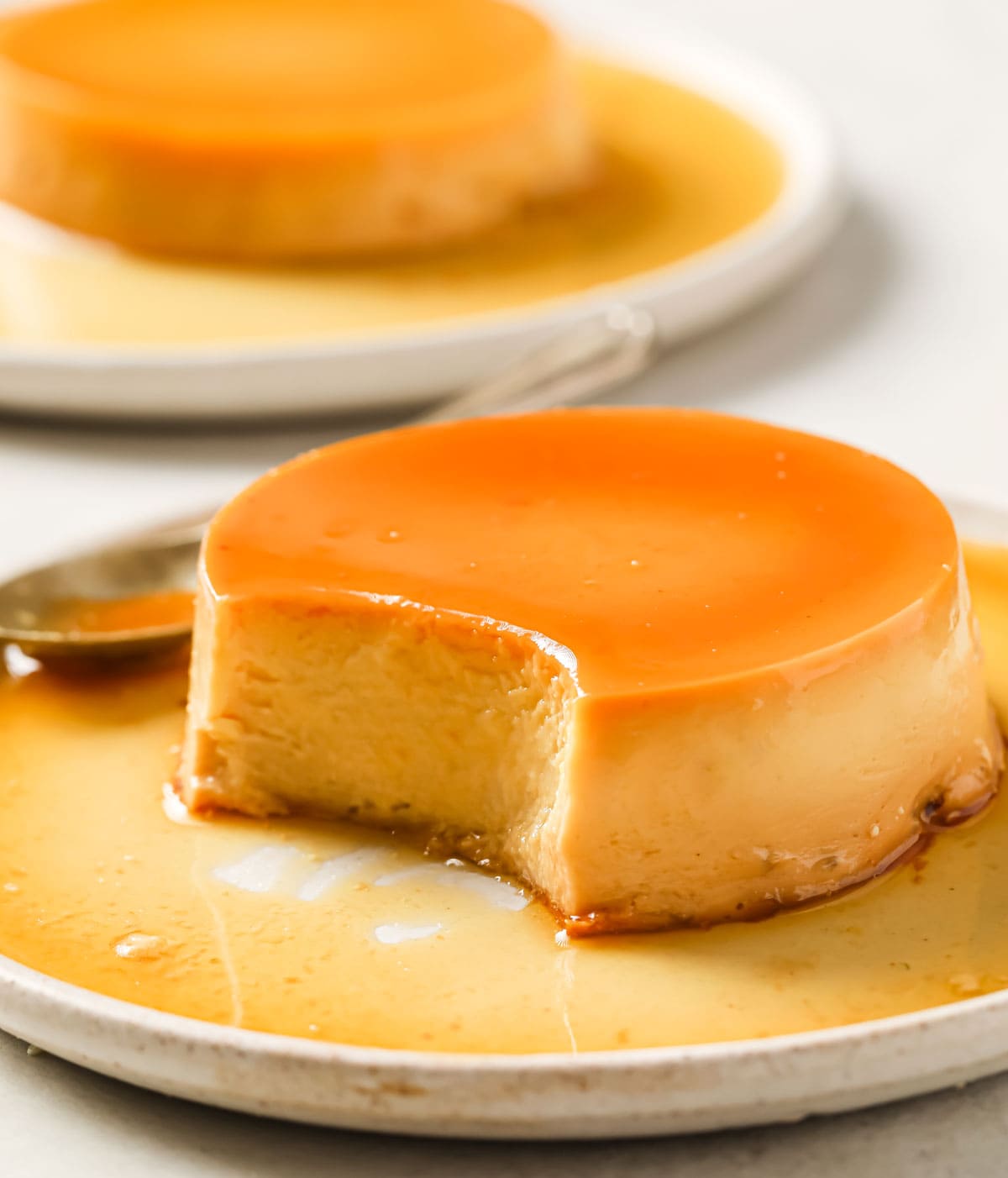 Prep Time10 mins
Cook Time45 mins
CourseDessert
CuisineBritish, French, Spanish
Servings3
Calories224 kcal
Note: The servings slider only changes the first amount in each line and not any subsequent amounts. Please make your own calculations where necessary. As an Amazon Associate I earn from qualifying purchases.
INGREDIENTS 
Syrup
▢⅓ cup allulose 65g
▢2.5 tbsp water
Flan
▢⅓ cup allulose 65g
▢½ cup heavy whipping cream 120ml, double cream
▢¾ cup almond milk 180ml
▢2 large eggs + 1 additional egg yolk
▢1 tsp vanilla extract
▢butter to grease ramekins
INSTRUCTIONS
Preheat the oven to 180C / 160C fan (350F / 320F fan).
Grease 3 (10cm x 5 cm) oven proof ramekins with butter.
Syrup
Add ⅓ cup allulose + 2.5 tbsp water to a pan. Bring to a simmer and cook until golden brown, about 4 – 5 minutes. Careful not to burn. Spoon into the bottom of the ramekins.
Flan
In a clean saucepan, add the cream, almond milk and the remaining allulose. On a low heat, bring to a gentle simmer.
In a cup, whisk 2 eggs and 1 additional egg yolk with a fork to combine.
Remove the cream mix from the heat and whisk in the eggs, vanilla extract with a hand balloon whisk. Strain the mix using a fine sieve into the ramekins, pushing it through with the back of a spoon.
Place the ramekins in a large baking dish. Pour boiling water into the dish until about ⅓ of the way up the ramekins. Bake for about 45 minutes, until it is set on top, but still a little jiggly in the middle. Remove from the oven and allow to cool to room temperature. Place in the fridge for at least 4 hours or overnight to fully set.
To remove the creme caramels, use a knife to release the edges, cover with a plate and flip.
NOTES
1.7g net carbs per serving. Makes 3 servings.
DON'T OVERBAKE: Remove it from the oven once it is set on top, but still a little jiggly in the middle. Creme Caramel continues to cook even after you remove it from the oven.
Store the flans in the fridge for up to 3 days. Alternatively, cool fully, then freeze for up to 3 months.
I buy my allulose on a website called luckyvitamin.com.
NUTRITION
Calories: 224kcalTotal Carbohydrates: 1.9gProtein: 6.1gFat: 20.6gSaturated Fat: 11.3gFiber: 0.2gSugar: 1.3g