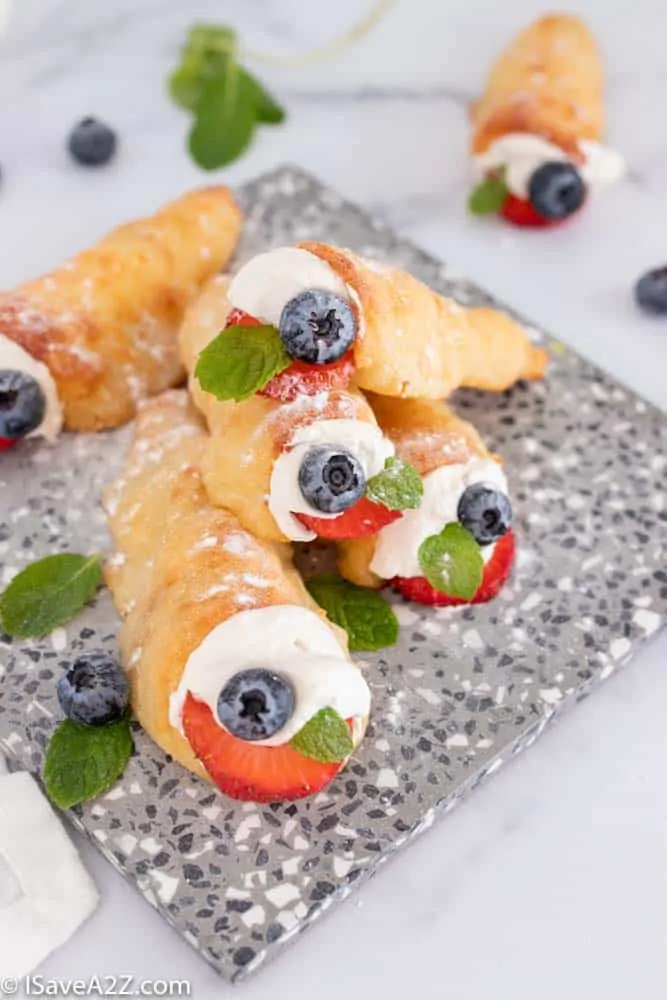 Keto Cream Horns Recipe Ingredients
Crust:
1 3/4 cup Mozzarella cheese, shredded
2 tablespoons Cream Cheese
3/4 cup Almond Flour
1 Egg
Note: you will need these Horn molds I purchased on Amazon when baking them!
Whipped Cream filling:
1 cup heavy cream
1 Tbsp Stevia or Powdered Swerve
1 tsp vanilla extract
This recipe makes about 12 medium sized cream horns!
Keto Cream Horns Recipe Instructions
Start by placing 1 3/4 cups of Mozzarella cheese, Cream Cheese and Almond Flour in a microwave-safe bowl. Heat it on high for exactly 1 minute.
Add one egg, stevia powder, and vanilla extract to the heated mixture and stir it until all the ingredients come together. The dough will be sticky.
Allow the dough to cool for a couple of minutes before you handle it.
Split the dough into two equal parts.
Layout a huge sheet of parchment paper. This will create a nonstick surface for you to roll this dough out. Place one part of the dough onto the parchment paper.
Lay another piece of parchment paper over the top of the other sheet of parchment paper with your dough in the middle of both sheets. The dough will feel a bit sticky but it will come together the more you start to roll it out and mold it.
Use a rolling pin (or your hands) smooth out the dough over the top of the parchment paper.
Use a pizza cutter and cut strips of dough long enough to cover the stainless steel cream horns mold.
Spray each mold with non-stick cooking spray to avoid sticking. (Update: after doing this a few times I find it easier to wrap parchment paper around the horn mold before wrapping the dough on. It makes life easier when you remove the horn and it comes out perfect every time!)
Place each mold on a baking pan lined with a silicone mat or parchment paper to avoid sticking.
Bake them at 350 degrees for about 12 to 15 minutes until they are a light golden brown color.
Allow them to cook before attempting to remove the stainless steel cream horns mold.
Start making the whipped cream filling while the cream horns are baking. Combine all the ingredients and use a hand mixer to mix it on high for about 5 minutes or so until the whipped cream becomes nice and thick. Once it's done, fill a piping bag with the whipped cream filling.
Once the cream horns have cooled, Fill the center of each cream horn with sugar-free vanilla flavored whipping cream.
Top each cream horn with your favorite Keto friendly fruit option! We love to use blueberries, strawberries or raspberries!
Keto Cream Horns Recipe Nutrition
Serves 12
Calories 107, Total C 2.1g, Fiber 0.3g, Net C 1.8g, Sugars 1g, Fat 8.2g, Protein 6.5g