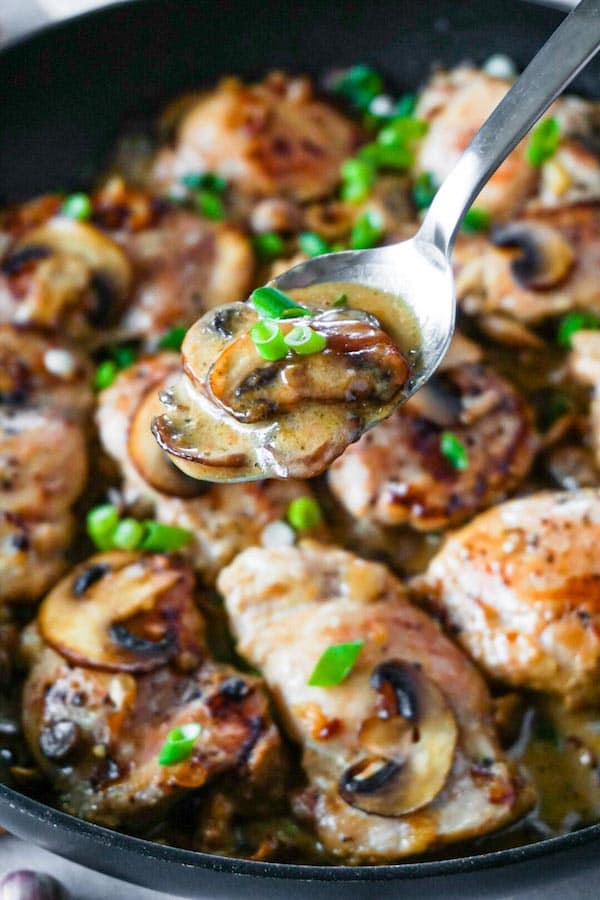 Course: Dinner, LunchCuisine: AmericanKeyword: Chicken thighs, Keto chicken recipe, Meal prep recipe Prep Time: 5 minutesCook Time: 30 minutesTotal Time: 35 minutes Servings: 11 thighs Calories: 162kcal Author: Anna
Ingredients
2.2 lb (1kg) chicken thighs, boneless
8 oz (250g) baby bella mushrooms, sliced
1 cup (125g) heavy cream
4 cloves garlic, chopped
½ small onion, diced
Ground black pepper
Salt
Unsalted butter for frying
Green onions for garnishing, chopped
Instructions
Season the chicken thighs from both sides with salt and black pepper to taste.
Heat a large skillet over a medium-high heat and add the butter.
When the butter has melted, add the onions and garlic and cook until they started browning.
Place the chicken thighs onto the skillet and fry on each side for 8 minutes or until golden brown.
When the chicken has a nice, crispy crust on both sides and is no longer pink in the center, transfer it from the skillet to a clean plate and set aside.
On the same skillet, cook the mushrooms for about 5 minutes or until they reduce in size and started browning. Then add the heavy cream, season with salt and black pepper to taste, and cook for additional 5-10 mins.
When the mushroom sauce is slightly thickened, add the chicken back to the skillet and let it cook without flipping it for another 2 minutes.
Serve hot, topped with freshly chopped green onions over a side dish of your choice.
Notes
NET CARB: 1,5gNutrition FactsKeto chicken thighs recipe with mushroom sauceAmount Per Serving (1 chicken thigh)Calories 162Calories from Fat 72% Daily Value*Fat 8g12%Potassium 24mg1%Carbohydrates 2g1%Fiber 0.5g2%Sugar 0.7g1%Protein 20g40%Vitamin A 233IU5%Vitamin C 1mg1%Calcium 12mg1%Iron 1mg6%*