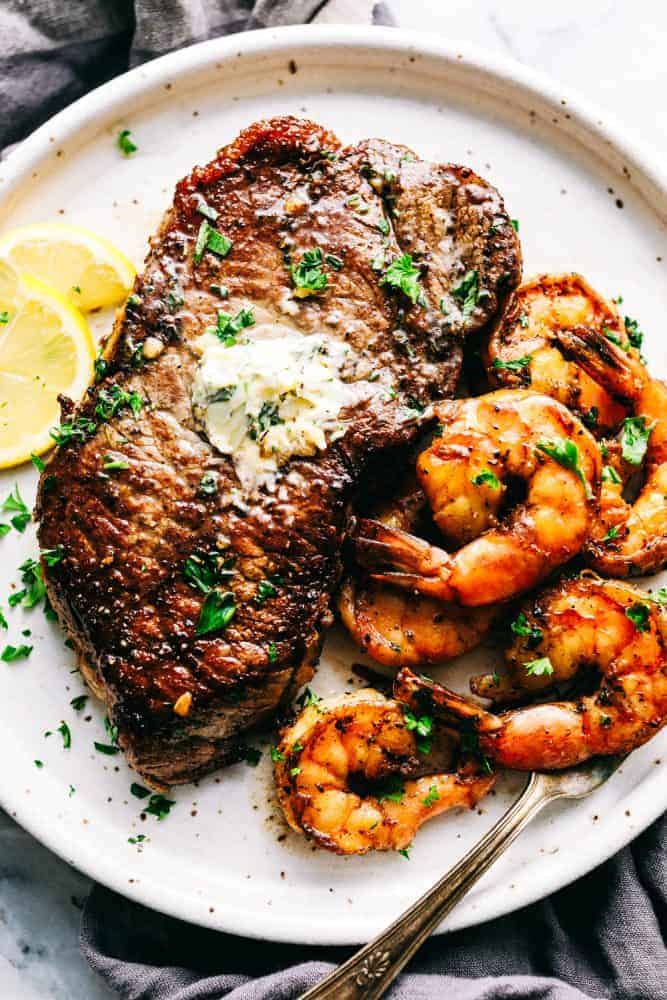 rilled Steak & Shrimp (SURF AND TURF) slathered in garlic butter makes for the BEST steak recipe! A gourmet steak dinner that tastes like something out of a restaurant, ready and on the table in less than 15 minutes. PRINT SAVEPREP:10 MINSCOOK:15 MINSTOTAL:25 MINSSERVES:  PEOPLE
INGREDIENTS
6 tablespoons unsalted butter, divided
4 cloves garlic, (or 1 tablespoon minced garlic)
1 tablespoon fresh parsley, chopped
1 tablespoon olive oil
4 New York Steak strip steaks (Porterhouse steaks)
Salt and pepper
8 ounces (250 g) shrimp deveined, tails on or off
INSTRUCTIONS
Mix together butter, garlic and fresh chopped parsley. Refrigerate until ready to use.
Heat a large grill over high heat. Lightly grease grill plates with oil. Pat steaks dry with paper towel. Brush lightly with oil and generously season with salt and pepper.
Grill steaks for 4-5 minutes each side until browned and cooked to desired doneness. Spread half of the butter all over of steaks. Transfer steaks to a warm plate and let rest for 5 minutes.
While steaks are resting, melt remaining butter. Season shrimp with salt and pepper.
Reduce heat to medium and grill your shrimp for 5-6 minutes, depending not the size and thickness of your shrimp. Flip each one halfway through cook time and continue cooking until they turn nice and pink in colour while white and opaque on the inside.
Toss remaining butter through shrimp and serve with steak!
NOTES
For steaks, you can use Strip, Sirloin, Rib eye, T-bone, Eye fillet, Scotch fillet or Porterhouse steaks.Tail on or off shrimp are fine. If grilling frozen shrimp, thaw first and pat dry with paper towel before grilling.
NUTRITION
Calories: 543kcal | Carbohydrates: 1g | Protein: 64g | Fat: 25g | Saturated Fat: 12g | Cholesterol: 325mg | Sodium: 572mg | Potassium: 873mg | Vitamin A: 610IU | Vitamin C: 4.6mg | Calcium: 145mg | Iron: 5mg