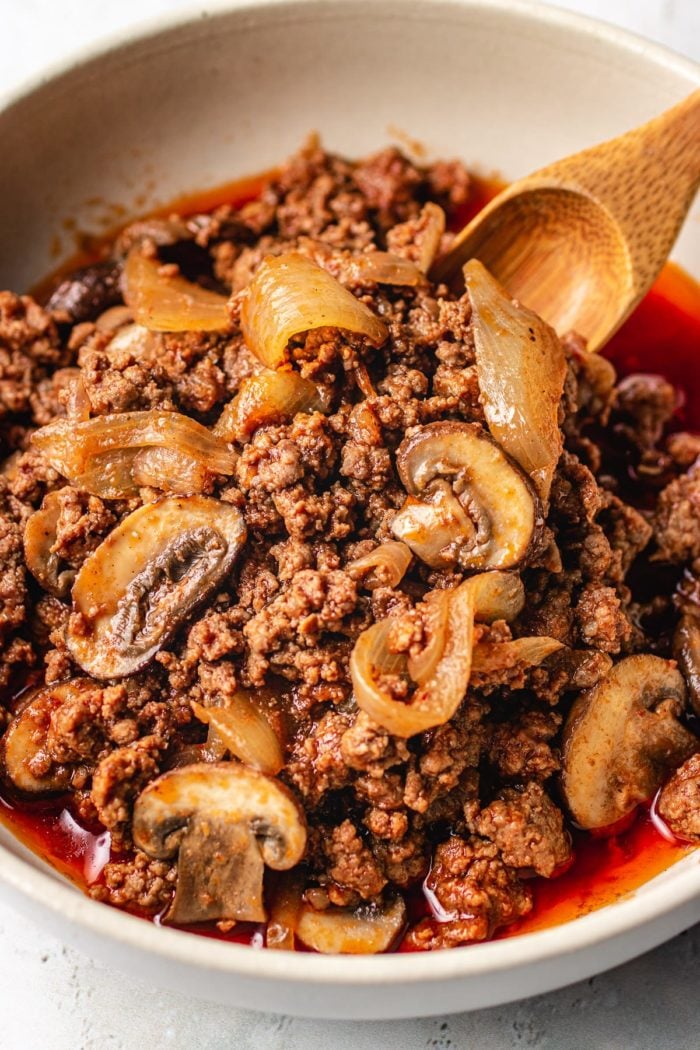 INGREDIENTS
For the ground beef:
Easy Keto ground beef recipe with noodles, inspired by beef stroganoff. This Paleo Whole30 Keto ground beef dish is easy and loaded with flavor!
4 oz. yellow onion, sliced, about half of one large onion
▢5 oz. cremini or baby bella mushrooms, sliced, optional
▢1 to 1.5 tbsp avocado or olive oil
▢1 lb. ground beef, alt. ground chicken or turkey
▢Coarse salt and pepper, to taste
▢⅔ cup frozen peas and carrots, or any frozen veggies, optional
▢1-2 tbsp ketchup
For the Paleo Worcestershire Sauce (Makes 1 cup):
▢½ cup beef or chicken stock
▢3 tbsp tomato paste or ketchup
▢2 tbsp coconut aminos
▢¼ tsp each garlic, onion, and mustard powder
▢⅛ tsp each coarse sea salt, black pepper, and cinnamon powder
INSTRUCTIONS
Slice the onion and mushrooms, if using.
To make Paleo worcestershire sauce – In a large measuring cup, combine ingredients from stock to cinnamon powder. Stir-well and set aside ready to use.
In a large skillet, add 1 tbsp oil. Saute the onion with a pinch of salt until it sweats a bit, about 2 minutes.
Add the ground beef and season with 2 pinches of salt and pepper. Cook over medium to medium-high heat with a wooden spoon to break up the meat to fine bits, about 3-4 minutes.
Add mushrooms and/or frozen vegetables with ⅔ cup of the worcestershire sauce. You can also use 1 cup of the sauce if you prefer more saucy.
Mix and stir to distribute it evenly. Lower the heat to medium-low and simmer with a lid on about 3 to 4 minutes. Remember to stir the pot and scrape the bottom periodically to ensure nothing is stuck to the bottom of the pan.
Stir and mix-in ketchup. Taste test to add more salt or pepper, if desired. Aim on the less salty side as the flavor will come through further once the sauce turns cooler.
Serve with spaghetti noodles. low carb noodles, rice, or roasted sweet potatoes. Serve hot or warm.
NOTES
If you use ground chicken or turkey, ideally use 50% breast and 50% dark meat for more juicy and moist flavor.To store:
Cooked ahead – Store the cooked beef and sauce in a glass container in the fridge for up to 5 days or in the freezer for up to 3 months.
Assemble now/cook later – Add all the uncooked/raw ingredients, including the sauce, to a freezer friendly bag. Store it flat until solid. To cook, no need to defrost. Cook it over medium heat on a stovetop until the beef is cooked through and breaked up to fine bites.
NUTRITION
serving: 1serving, calories: 364kcal, carbohydrates: 9g, protein: 22g, fat: 27g, saturated fat: 9g, cholesterol: 81mg, sodium: 350mg, potassium: 694mg, fiber: 1g, sugar: 4g, vitamin a: 244iu, vitamin c: 6mg, calcium: 38mg, iron: 3mg