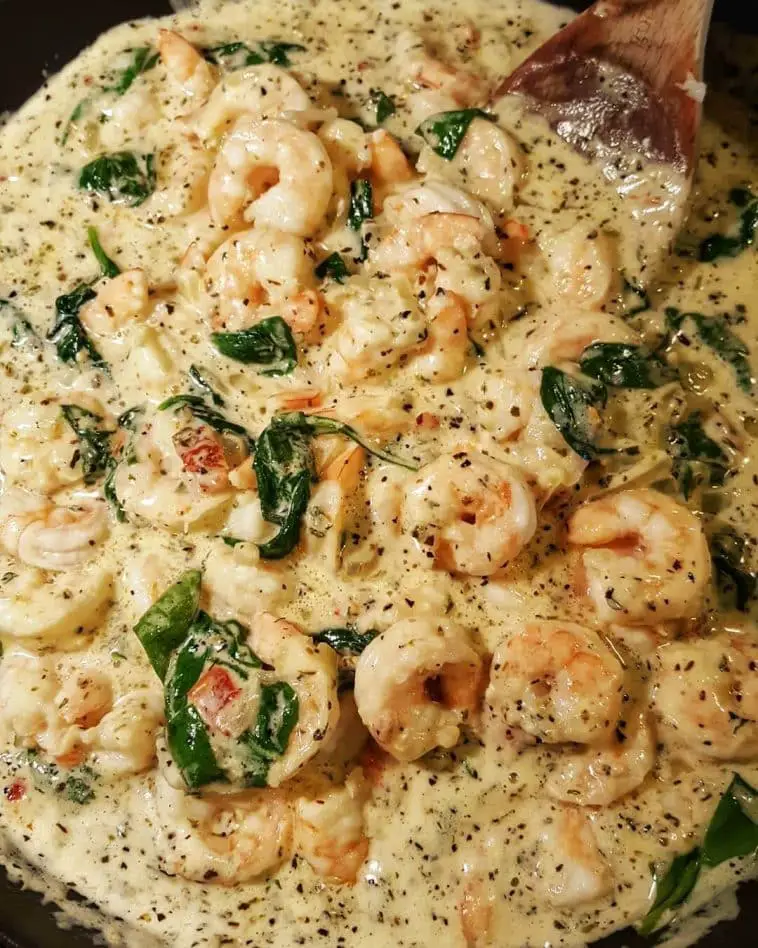 Creamy Tuscan Shrimp is a low-carb dinner the entire family will devour. Juicy shrimp, creamy sauce, plump tomatoes, and seasoned beautifully. You can quickly make this Tuscan garlic shrimp with just 10 ingredients and in a matter of minutes.
Prep Time: 0 minutes
Cook Time: 15 minutes
Total Time: 15 minutes
Amount Per Serving
Calories: 422kcal
Carbohydrates: 5g
Protein: 28g
Fat: 33g
Saturated Fat: 16g
Cholesterol: 367mg
Sodium: 1066mg
Potassium: 340mg
Fiber: 1g
Sugar: 1g
Vitamin C: 20mg
Calcium: 293mg
Iron: 3mg
INGREDIENTS
2 tablespoons olive oil
2 tablespoons butter
1 pound shrimp, deveined, and tails removed
salt (to taste)
pepper (to taste)
3-4 cloves garlic (minced)
1 cup halved cherry or grape tomatoes (or sundried tomatoes)
3-4 cups baby spinach
3/4 cup heavy cream
1/4 cup freshly grated Parmesan
2 tablespoons basil, thinly sliced (or parsley)
INSTRUCTIONS
Heat oil and butter in a large skillet over medium-high heat. Once the oil is super hot and the butter has melted, add the shrimp and a generous sprinkle of salt & pepper, sautee for 1 minute.
Remove shrimp from pan and set aside then add the garlic, tomatoes, and spinach to the same pan. Saute for 1 minute or until the garlic is fragrant.
Stir in the heavy cream, parmesan cheese, and basil. Reduce heat to medium and simmer until sauce is slightly reduced about 2-3 minutes.
Return the shrimp to the pan and stir to combine. Taste and adjust salt if needed.