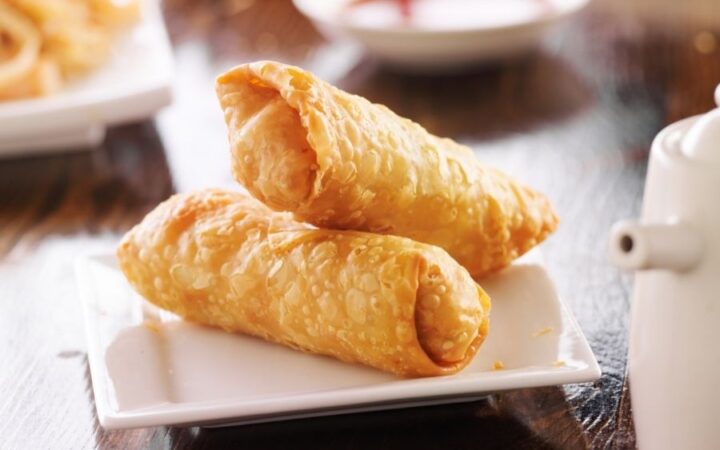 Why stick to traditional flavors when you can get creative? Make these amazing breakfast Air Fryer Egg Rolls for an easy breakfast on the go.
Prep Time: 10 minutesCook Time: 8 minutes Course: Appetizer, BreakfastCuisine: American, Fusion Servings: 4 servings Calories: 326kcal Author: AshleyThompsonClick on highlighted ingredients or Equipment to see exactly what I use to make this recipe
Ingredients
▢4 strips bacon
▢1 cup cooked hashbrowns
▢2 large eggs
▢4 egg roll wrappers
▢4 tbsp vegetable oil
▢1/2 cup cheddar cheese
▢1 tsp salt
▢1/2 tsp pepper
Instructions
Take one egg roll wrapper and lay flat with one corner pointed toward your belly button.
Place desired ingredients into the center of the egg roll wrapper in a straight line. It should be approximately 1 inch wide with a span the length of the egg roll wrapper diagonally, leaving 1/2 an inch without filling on each end.
Fold in the two corners of the egg roll far enough that the fold touches the end of the filling.
Next, start on the opposite side of the egg roll wrapper and fold over the two tucked in corners and the egg roll filling. Continue to roll the eggroll tightly (but not too tight) until it is rolled into a cylindar.
Use a basting brush to brush water on the edge of the eggroll to seal it.
Spray the outside of the rolled eggroll with vegetable oil and cook for 8 minutes in the air fryer on 375, turning halfway through.
Nutrition
Calories: 326kcal | Carbohydrates: 22g | Protein: 12g | Fat: 21g | Fiber: 2g | Sugar: 1g