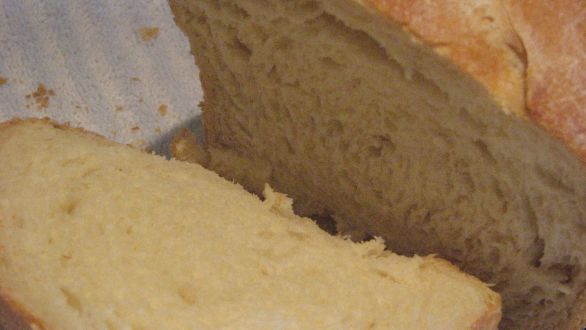 INGREDIENTS
3⁄4cup water, warm, 110 F
1cup bread flour
1cup whole wheat flour
2tablespoons sugar
3⁄4teaspoon table salt
2teaspoons olive oil
1tablespoon nonfat dry milk powder (instant form)
1⁄4ounce active dry yeast, about 2 tsp
DIRECTIONS
Place dry ingredients in mixer bowl.
Attach flat beater and mix for 30 sec. Change to dough hook.
Set to speed 2. Add oil and then water slowly until bread pulls away from the side of the bowl. Knead 2 minutes until dough silky to touch.
Shape into ball and place into oiled bowl, greasing the top of the dough. Cover.
Let raise until doubled, 1 1/2-2 hours.
Punch down. Knead 3 or 4 times. Shape and place into bread pan.
Let rise until doubled, no more than 1″ above bread pan.
Bake at 350 degrees for 30-40 min until instant read thermometer reads 170 degrees of higher.
Cover dough with foil tent if necessary to prevent over browning.
Cool on wire rack.

READY IN: 2hrs 10mins SERVES:10YIELD:10 slices UNITS:US