Making your own sugar free meringues is so simple! These lovely little keto cookies are light as a feather, crispy and melt-in-the-mouth sweet, just like a meringue should be. Enjoy them on their own or use the recipe for any low carb dessert that calls for meringue.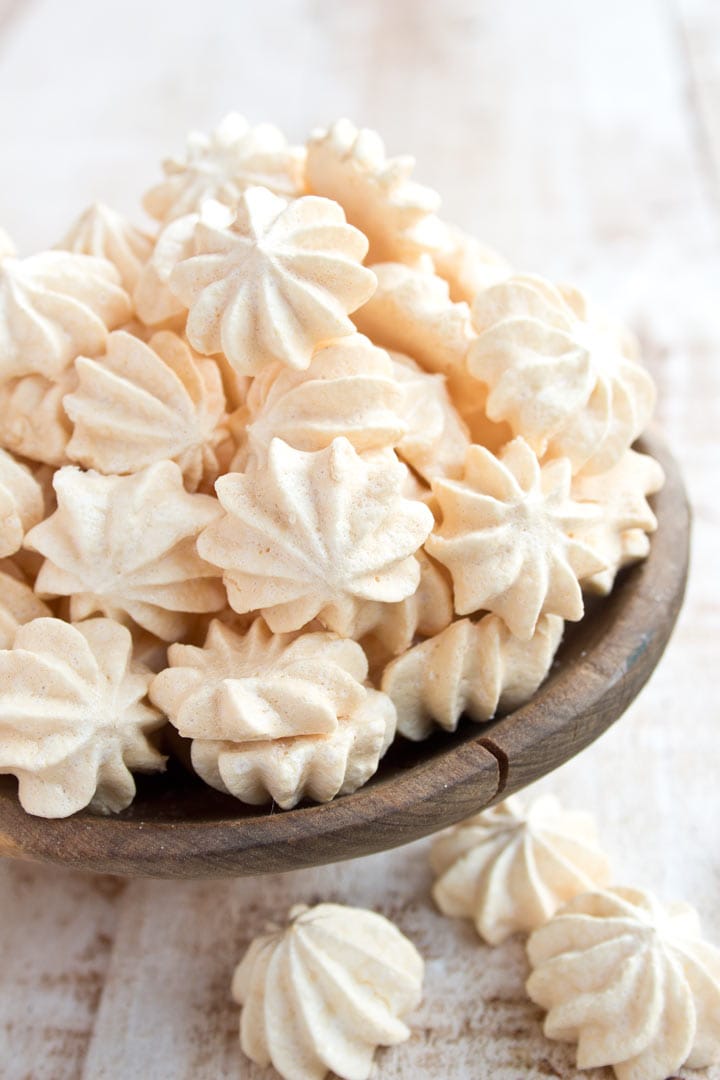 INGREDIENTS 1x2x3x
▢2 egg whites
▢4 tbsp / 40g inulin
▢3 tbsp / 30g powdered erythritol (So Nourished)
▢½ tsp vanilla extract


INSTRUCTIONS
Preheat the oven to 110 C electric / 230 F.
Put 2 very fresh egg whites into a clean, dry glass or metal bowl. Whisk with an electric mixer until stiff – but take your time! Start with a slow speed and increase the speed once the egg whites become foamy and begin to thicken. This will take 2-3 minutes.
Mix the inulin and erythritol in a separate bowl. Add to the egg whites a spoonful at a time, while whisking on a high speed. Last, add the vanilla extract and continue whisking until combined.
Fill into a piping bag and pipe cookie shapes onto a baking sheet lined with baking paper. If you don't have a piping bag, simply spoon little cookie heaps onto the sheet!
Bake for 15 minutes on a low shelf. Then turn down the oven to 90 Celsius / 200 F and continue to bake for around 45 more minutes. Then turn off the oven and leave the meringues inside for at least another hour so they can dry out.


NOTES
My mix made 70 small meringues. 0.2 g net carbs per meringue. Want your egg whites stiff, your meringues crispy? Don't miss the tips in the post!!!Variations:
almond meringues – use ½ teaspoon of almond extract instead of the vanilla.
lemon meringues – replace the vanilla extract with 1 teaspoon of lemon juice and add an additional teaspoon of lemon zest.
chocolate meringues – dip the bottoms into melted dark or sugar free chocolate

NUTRITION
Calories: 1kcalTotal Carbohydrates: 0.6gProtein: 0.1gFiber: 0.4gSugar: 0.2g