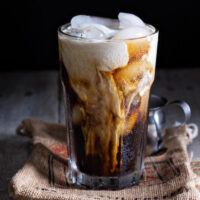 This salted caramel cream cold brew is a copycat recipe for the newest Starbucks beverage! Made with just 3 ingredients, it's affordable, easy, and secretly low carb
Course: BreakfastCuisine: American Prep Time: 1 minuteCook Time: 1 minuteTotal Time: 2 minutes Servings: 2 glasses Calories: 59kcal
Ingredients
2 tablespoons sugar free caramel sauce divided
2 cups cold brew
2 tablespoons heavy cream
1 cup ice
Instructions
In a glass jar, whisk together half the caramel syrup with the cold brew. Pour into two glasses filled with ice.
Add the remaining caramel sauce and heavy cream in a large bowl. Using a hand mixer, beat them together until smooth and fluffy. Pour the caramel sweet cream over the top of both glasses and serve immediately.
Notes
Standard caramel coffee syrup can be used.* To lower the fat and calories, use half and half or coconut cream.
Nutrition
Serving: 1glass | Calories: 59kcal | Carbohydrates: 2g | Protein: 1g | Fat: 6g | Sodium: 44mg | Potassium: 11mg | Fiber: 1g | Vitamin A: 221IU | Vitamin C: 1mg | Calcium: 13mg | Iron: 1mg | NET CARBS: 1g