This easy recipe for keto Philly cheesesteak stuffed peppers is a low carb family favorite. Ground beef keeps the stuffed peppers moist and delicious.
Does your family love ground beef like mine does? Mine can't seem to get enough of ground beef recipes like low carb tacos, taco salads, and sloppy Joes. And low carb tamale pie makes them especially happy. Here's another tasty family meal – Philly Cheesesteak Stuffed Peppers! I hope you like it, too.
Stuffed peppers is an easy weeknight meal and an old family favorite. Mom made her stuffed peppers the Italian way with rice and tomato sauce – so good! But, experimenting with new flavor combinations keeps things interesting. My family flipped for these Philly Cheesesteak stuffed peppers!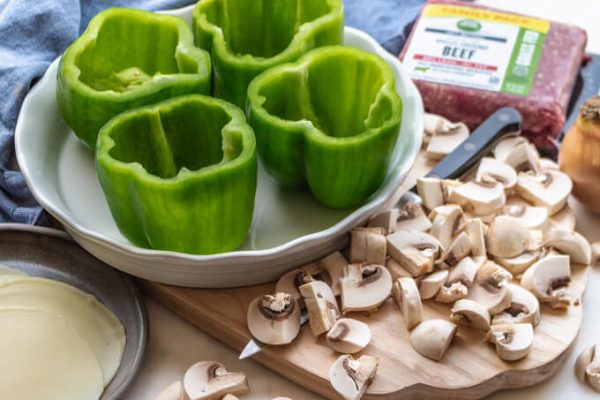 PHILLY CHEESESTEAK STUFFED PEPPERS – THREE WAYS
I tested the filling for this stuffed pepper recipe three ways with:
Thinly sliced roast beef
Sliced steak
Ground beef (the easiest to eat)
Here are my opinions…
Stuffed peppers with roast beef: Thinly sliced leftover roast beef sautéed with mushrooms and onions was tasty and easy. I liked the texture of the roast beef, but it did get a little tough after cooking in the oven. I'm sure that deli roast beef would be just as tasty in this recipe. This was the fastest version of the three.
Stuffed peppers with sautéed steak: I sliced steak into strips about ¼ inch thick and 2 inches long and browned in a pan. Next, I sautéed mushrooms and onions, added the steak back to the pan and seasoned with.
I stuffed the peppers with cheese and the beef mixture and baked. This tasty version resulted in more substantial pieces of meat in the pepper which was pleasing to the eye. Unfortunately, my kids had a little trouble cutting the meat with their forks.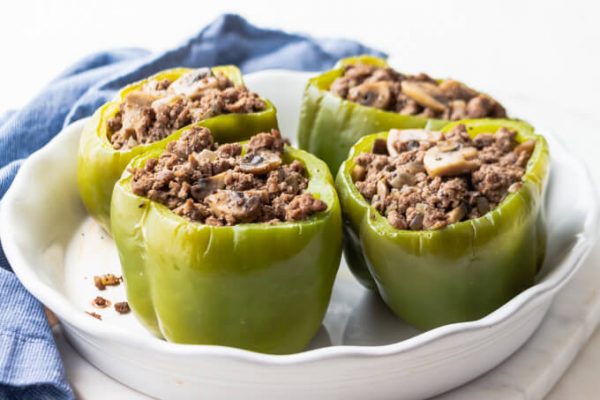 Stuffed peppers with ground beef: Lastly, I tested ground beef in the peppers. My family liked this version best. I browned the mushrooms and onions. Then, cooked the ground beef, added the mushrooms and onions back, and seasoned the mixture.
Steaming the peppers in the microwave helped soften them and pouring out the accumulated liquid prevented sogginess. I placed one slice of provolone to the bottom of each pepper and stuffed them with the ground beef. The peppers baked for 20 minutes. Then, I topped each with a piece of cheese placed them under the broiler.
As I mentioned, my family preferred this keto Philly cheesesteak stuffed peppers with ground beef; perhaps this version was easier to eat or maybe the fat in the ground beef made them taste better. In any case, this is a no-brainer recipe that's easy to prepare and doesn't take much time.
Course: Dinner
Cuisine: American
Prep Time: 10 minutes
Cook Time: 30 minutes
Total Time: 40 minutes
Servings : 4
Calories: 420kcal
Notes
Nutrition Facts
Philly Cheesesteak Stuffed Peppers
Amount Per Serving
Calories 420Calories from Fat 252%
%Daily Value:
Fat 28g43%
Cholesterol 96mg32%
Sodium 912mg40%
Carbohydrates 10g3%
Fiber 3g13%
Protein 32g64%
Percent Daily Values are based on a 2000 calorie diet.
Nutrition
Calories: 420kcal | Carbohydrates: 10g | Protein: 32g | Fat: 28g | Cholesterol: 96mg | Sodium: 912mg | Fiber: 3g