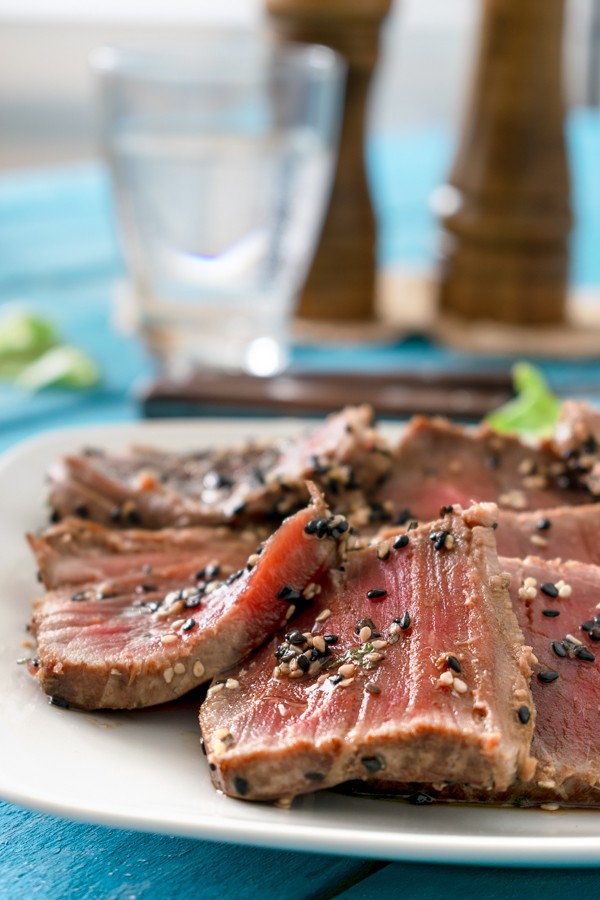 Try low carb seared tuna steak!
Don't you love going to a restaurant and enjoying perfectly cooked, keto-friendly meals that are way more impressive than anything you could make at home? Well, that was my feeling about seared tuna. When you go out to eat and order a seared tuna dish, it always looks so amazing and also seems like it would never come out the same if I made it at home.
Seared tuna steak is one of those recipes that sounds way too fancy to make for yourself–but that's definitely NOT the case! You can easily whip up this meal in your very own kitchen in under 30 minutes and have a restaurant-worthy tuna on your plate in no time. In addition, not only is tuna low carb, but it also happens to be an excellent source of protein, hitting all those keto requirements that you may have. If you are interested in an excellent tuna meal then look no further than this easy-to-follow recipe.
his dish only requires a hand full of ingredients and only six minutes on the stove. It is incredible what you can do with a few perfectly matched seasonings! Since it is so quick and easy to make, this is the perfect recipe to use if you're looking for a quick lunch that is satisfying AND delicious. Of course, we love making this recipe at dinner and pairing it with some of our favorite keto sides (I have this tuna with a side of green bean fries the other night and it was the perfect meal!).

There's definitely something especially tasty about fresh tuna so make sure that you select a couple of good ahi tuna steaks. Find a local fish market that carries fresh fish and can guide you toward purchasing the best tuna steaks possible. The marinade for the tuna is made with just sesame oil and soy sauce–that's it! You'll be blown away by how much flavor is packed into just these two simple ingredients. If you are trying to watch your sodium intake, use coconut aminos in place of soy sauce. It has an almost identical taste while being much lower in salt. Don't worry, it is still low carb!
When you go to make the fish, keep in mind that fish cooks incredibly fast so be careful not to overcook the tuna steaks. You want that tasty pink center, especially when you spend extra to get the best ahi tuna cuts. This is fast enough to whip together for a fast, healthy lunch, but it's satisfying enough to serve up for dinner as well. The choice is yours!
The trick to finding a good keto recipe is focusing on low carbs and high fat. This recipe has both! Plus, you are going to love the deliciousness that you can serve up in a matter of minutes. Eating healthy doesn't have to be flavorless, cost a fortune, or take up too much time. Whether you've been on the keto diet for a while or simply want to try this whole low carb thing for yourself–seared tuna steak is a great introductory recipe. Try it for yourself and see how amazing it really is!

MACROS PER SERVING:
• 255 Calories
• 9g of Fat
• 40.5g of Protein
• 1g of Net Carbs
| | | |
| --- | --- | --- |
| Serves2 | Prep Time15 minutes | Cook Time6 minutes |
Ingredients
2 (6-ounce) ahi tuna steaks
2 tablespoons soy sauce
1 tablespoon sesame oil
1 teaspoon sesame seeds
salt and pepper
Instructions
Season the tuna steaks with salt and pepper and place them in a shallow dish.
Whisk together the soy sauce and sesame oil then pour over the tuna steaks.
Turn to coat then marinate at room temperature for 15 minutes.
Heat a large nonstick skillet over medium-high heat until hot.
Add the tuna steaks and cook for 3 minutes until seared underneath.
Flip the steaks and cook for another 2 to 3 minutes until done to your liking.
Slice the steaks in ½-inch slices and garnish with sesame seeds to serve.