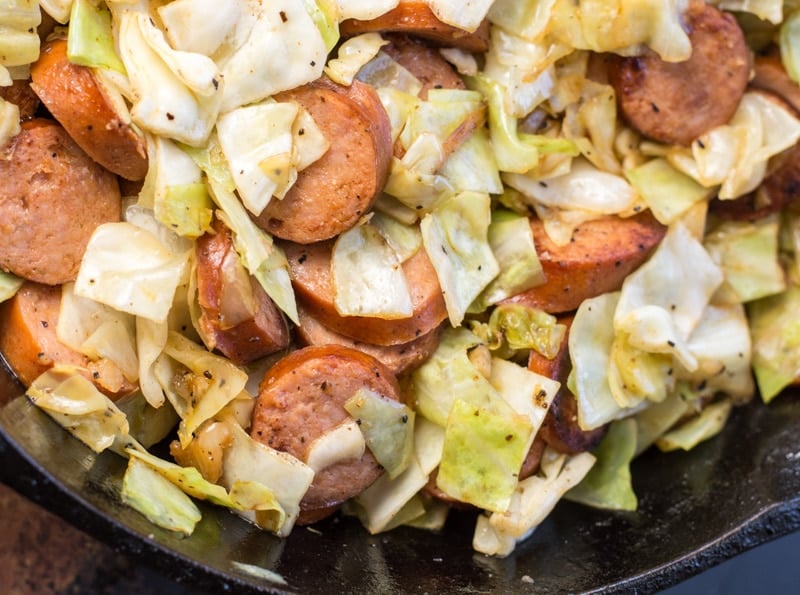 yield: 4 prep time: 5 MINUTES cook time: 15 MINUTES total time: 20 MINUTES
Need an easy low carb, one pan dinner? I've got you covered! This Keto Sausage and Cabbage Skillet is ready in under 20 minutes and has less than 6 carbs per serving!4.4 Stars (342 Reviews)PRINT
Ingredients
1 (12 ounce) package of smoked sausage
1 tablespoon butter
2 cloves of garlic, crushed
4 cups cabbage, chopped into bite size pieces
1/4 teaspoon salt
1/4 teaspoon pepper
1/4 teaspoon onion powder
1/4 teaspoon paprika
Instructions
Heat a 12-inch skillet over medium heat. Spray with cooking spray or add 1 teaspoon of olive oil.
Brown the sliced smoked sausage until lightly crisp.
Remove sausage from skillet and set aside.
Add butter, garlic, chopped cabbage, and spices and stir well.
Fry cabbage to your desired tenderness. If you would like more crunch this will take 3-4 minutes. If you like your cabbage very tender it will cook closer to 10 minutes.
When the cabbage reaches your desired texture, add the cooked sausage and stir until heated through.
Notes
Most fried cabbage recipes call for chopped onion. If desired, you can add 1/2 cup of chopped onion when you add the garlic if you wish but it does increase the carbs to just over 7 net carbs per serving.
Recommended Products
As an Amazon Associate and member of other affiliate programs, I earn from qualifying purchases.
Utopia Kitchen Pre-Seasoned Cast Iron Skillet – 12.5 Inch – Black
Nutrition Information:
SERVING SIZE: 1/4 of the pan (roughly 1 1/4 cup)
Amount Per Serving: CALORIES: 319TOTAL FAT: 27.4gCHOLESTEROL: 56.9mgSODIUM: 793mgCARBOHYDRATES: 7.2gNET CARBOHYDRATES: 5.7gFIBER: 1.5gSUGAR: 2.7gPROTEIN: 11.2g