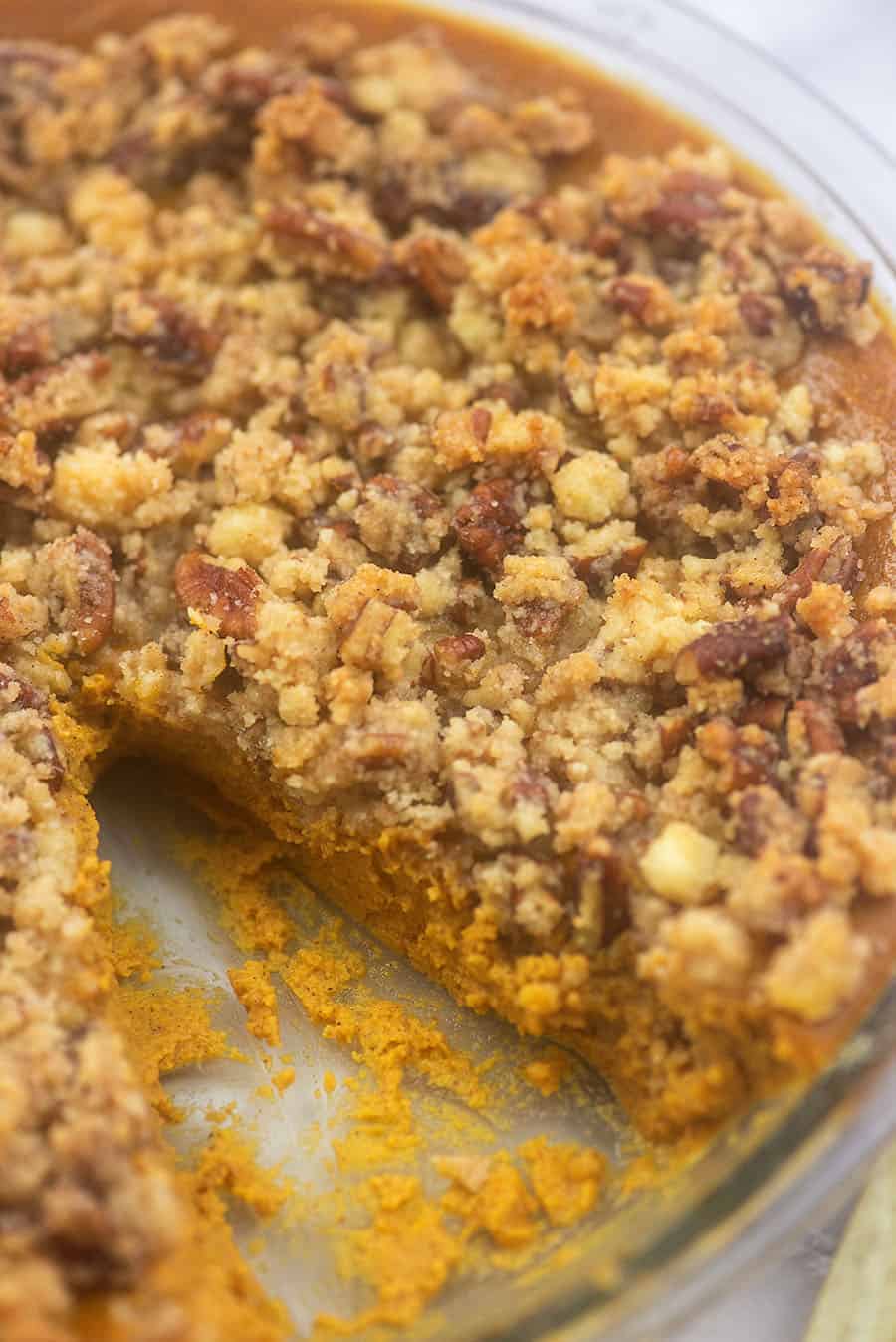 Ingredients
For the filling:
1 can (15 ounces ) pure pumpkin
1 cup heavy cream
2 large eggs
¾ cup sweetener, such as monkfruit
1 tablespoons pumpkin pie spice
For the topping:
1/2 cup almond flour
½ cup chopped pecans
3 tablespoons brown sugar substitute, such as monkfruit
2 tablespoons coconut flour
1 teaspoon cinnamon
1/4 cup melted butter
Instructions
Preheat oven to 350 degrees.
Add the filling ingredients to a large mixing bowl and whisk well to combine.
Spray a 9 inch standard plate with non-stick spray. Pour filling into pie plate.
Bake for 45 minutes. Filling will still be somewhat jiggly.
Add the topping ingredients to a small mixing bowl and stir to combine.
Sprinkle the streusel evenly over the pie and return to the oven for 15-20 minutes or until a knife inserted in the center comes out clean.
Cool on the counter for 1 hour before transferring to the refrigerator to cool completely, about 3 hours.
Nutrition Information:
YIELD: 8 SERVING SIZE: 1 slice
Amount Per Serving:Calories: 300Total Fat: 27gSaturated Fat: 12gTrans Fat: 1gUnsaturated Fat: 13gCholesterol: 95mgSodium: 74mgCarbohydrates: 9gNet Carbohydrates: 6gFiber: 3gSugar: 6gProtein: 5g