These keto lemon cookies are soft and chewy cookies full of a sweet lemon flavor! Made in just one bowl, these lemon crinkle cookies take just 15 minutes to make! 2 grams net carbs per cookie.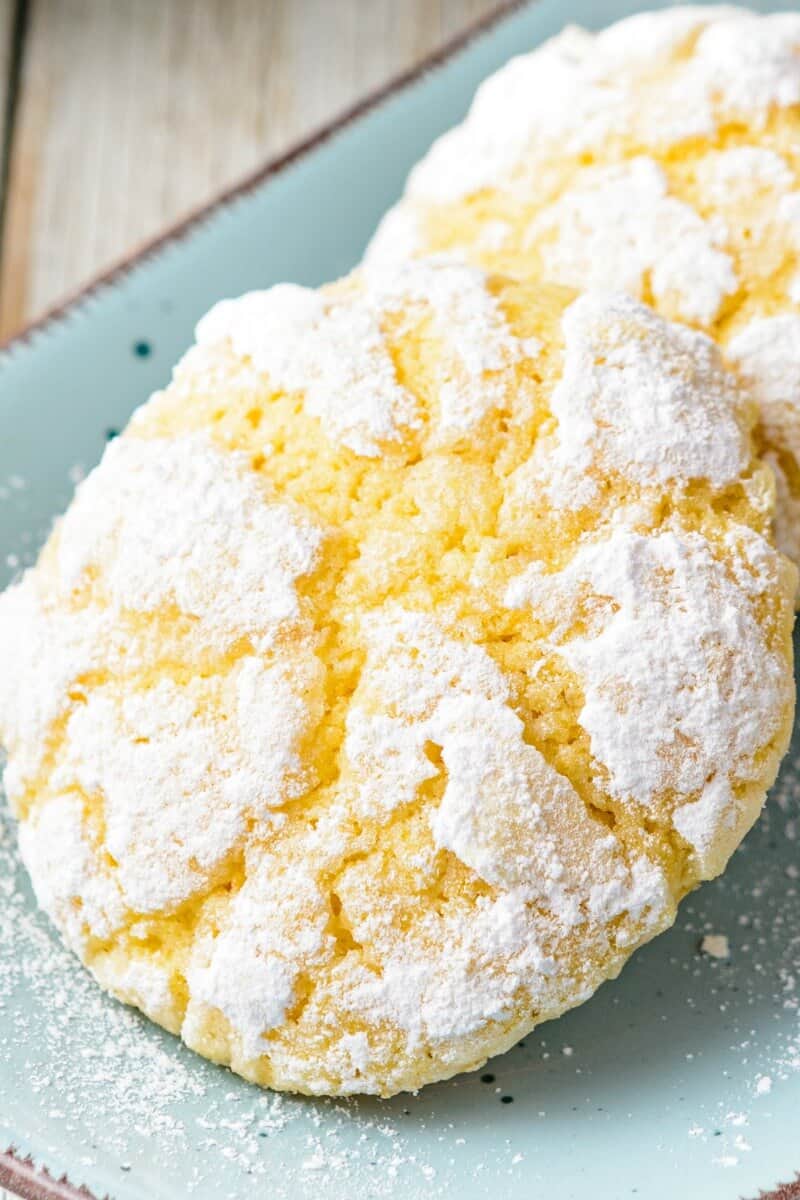 When it comes to keto lemon recipes, my favorite treats to make are lemon bars, lemon cheesecake, and these easy lemon crinkle cookies. 
It genuinely baffles me when people say they aren't fans of lemon desserts. As someone who loves hitting my palettes with all senses, it's no surprise that I am (probably) lemon's biggest fan. With that said, it's not as though whatever cake or dessert bar you make will be sour. It's quite the contrary- The tang from the lemon balances out the sweetness of whatever it is you are making or pairing with it.
If you are one of these skeptics, you will LOVE this keto lemon cookies recipe. I've been meaning to share it for quite some time, but in the midst of all my holiday baking, it kind of fell by the wayside. It's a citrus twist on my chocolate crinkle cookies, but in my opinion, even better! 
No sugar or dairy is needed for these cookies, but you'd never tell. Texture wise, they have tender edges, soft centers, and melts in your mouth! They are sweet and slightly tangy, without being overpowering!
With lemons being one of a handful of keto friendly fruit, I can't wait to experiment with it more. In the meantime, I'll be whipping up a third batch of these cookies to easily convert more people onto the citrus dessert train!
Course: DessertCuisine: American Prep Time: 5 minutesCook Time: 15 minutesTotal Time: 20 minutes Servings: 18 cookies Calories: 73kcal Author: Arman
Ingredients
2 cups almond flour blanched or superfine
1/4 teaspoon salt
1 cup granulated sweetener of choice erythritol or monk fruit sweetener
2 tablespoon lemon zest
2 large egg whites room temperature
1 teaspoon lemon extract
1-2 drops yellow food coloring optional
1/4 cup sugar free powdered sugar
Instructions
Preheat the oven to 180C/350F. Line a large baking sheet with parchment paper.
In a large mixing bowl, add all your dry ingredients and mix well. In another mixing bowl, beat together your egg whites until soft peaks form. Add in the lemon extract and yellow food coloring. Gently fold through the dry mixture until combined.
In a separate bowl, add the sugar free powdered sugar. Using a 1 tablespoon cookie scoop, scoop out heaping tablespoons of dough and roll them in the powdered sugar until combined. Repeat until all the cookie dough balls have been covered.
Bake the cookies until 15 minutes, or until the edges are done and the tops begin to crackle.
Remove from the oven and let cool completely. If the powdered sugar has seeped into the cookies while baking, sprinkle more on top.
Notes
TO STORE: Lemon cookies will keep fresh at room temperature, covered, for up to 1 week. If you'd like them to keep longer, store them in the refrigerator. TO FREEZE: Place cookies in a ziplock bag and store them in the freezer for up to 6 months.
Nutrition
Serving: 1Cookie | Calories: 73kcal | Carbohydrates: 3g | Protein: 3g | Fat: 6g | Sodium: 38mg | Potassium: 6mg | Fiber: 1g | Vitamin C: 1mg | Calcium: 27mg | Iron: 1mg | NET CARBS: 2g