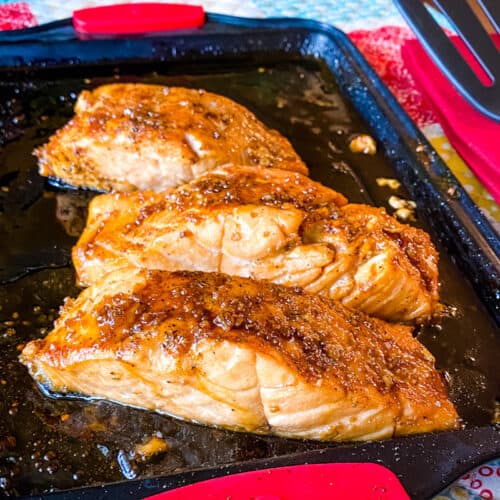 EQUIPMENT
INGREDIENTS
2 lbs salmon about 1/2 lb each
1/2 tsp Salt
1/2 tsp Pepper
1/2 Smoked paprika
1/2 teaspoon onion powder
2 tbs fresh minced garlic
6 tbs Choczero peach syrup or any of your favorite keto friendly syrups
2 tbs butter
1 tbs soy sauce or coconut aminos
1 tsp lemon juice
INSTRUCTIONS
Cut the salmon into 4 equal servings.
Season with salt, pepper, smoked paprika, and onion powder.
In a medium size frying pan over medium heat, add the syrup, butter, soy sauce or coconut aminos, lemon juice and the minced garlic. Stir until well combined.
Add the salmon to the heated sauce and cook it four about 3 to 4 minutes on each side while basting each fillet with the sauce as it cooks.
Transfer the salmon fillets to a baking sheet and pour the glaze over the top.
Bake at 400 degrees for about 5 minutes or until the internal temperature reaches 145 degrees.
Serve warm with a side salad.
Enjoy!