Parmesan taco shells are my favorite to make because they only contain one ingredient: Parmesan! Here's how I transform one of my favorite types of cheese into a keto-friendly taco shell.
How to Make Parmesan Keto Taco Shells
Prepare your baking sheet and oven. Preheat the oven to 400 degrees Fahrenheit and line a baking sheet with parchment paper.
Portion your cheese piles. For each taco shell, allot about ⅓ cup of cheese in small piles spaced about 2 inches apart on the baking sheet. It will spread, hence the spaces in between.
Bake. Bake for 5 to 7 minutes or until the cheese has melted and browned.
Let cool. Let it cool, otherwise it will not hold its shape when you lift it up with your spatula.
Mold the taco shell. Position your favorite spatula between two cups and drape the Parmesan sheet over it so that it folds over in the shape of a taco shelll.
How to Make Homemade Caesar Salad Dressing
Of course, any salad wouldn't be complete without a delicious, homemade dressing. For my Caesar salad dressing, I like it smooth and creamy and this is how I make it:
Put all the ingredients in a jar.
Blend with an immersion blender. My secret to any salad dressing is my immersion blender because it helps mix the water-based and oil-based ingredients together.
Refrigerate. Some salads are better with chilled salad dressing.
How to Make Keto Chicken Caesar Salad Tacos
Now that you have all the components ready, all that's left to do is compose the tacos!
Measure out your chicken, lettuce and dressing.
Toss. Take half your dressing and toss your chicken and lettuce in it until everything is lightly coated.
Fill the taco shells. Fill the taco shells about ¾ of the way and drizzle with the remaining salad dressing.
Sprinkle with bacon. Of course, Caesar salad wouldn't be complete without bacon on top!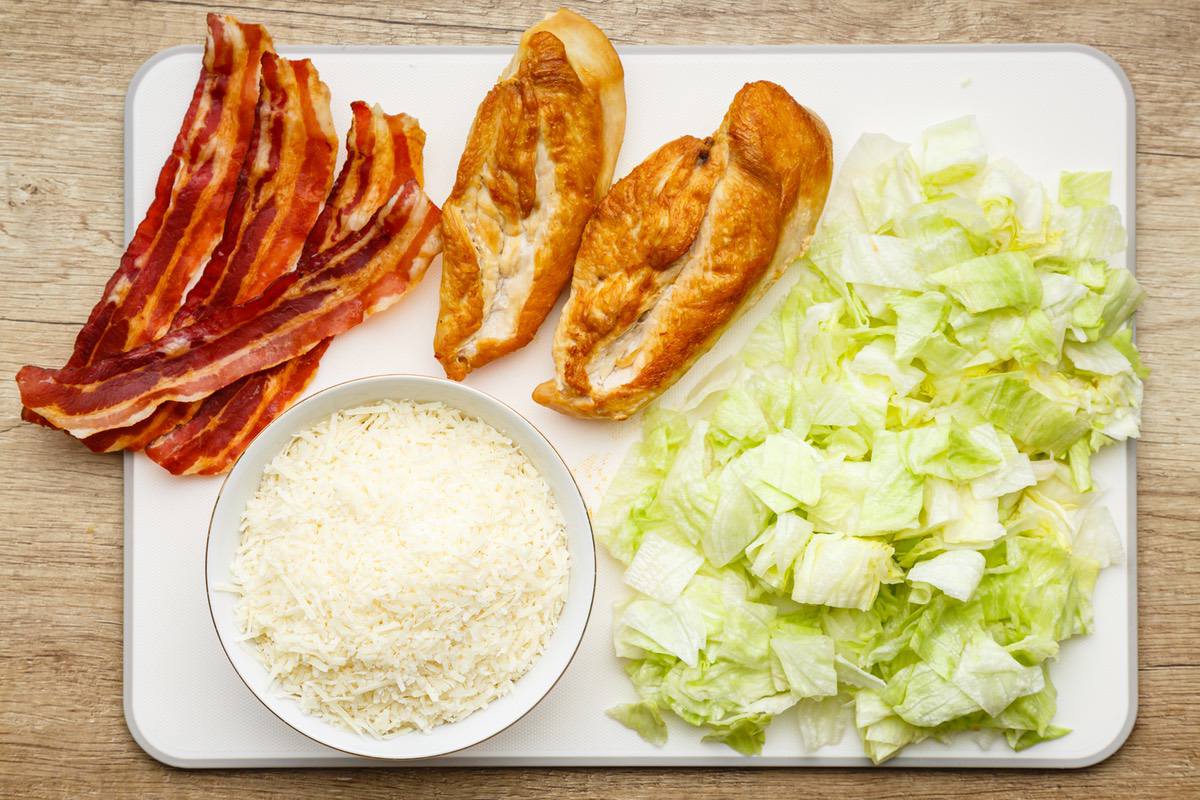 Can You Make These Keto Taco ShellsAhead?
These parmesan taco shells are excellent when freshly made, and will certainly keep for a day or two when stored in the refrigerator. However, storing it for longer than that can affect the overall texture of the taco shell, making it drier and more crumbly.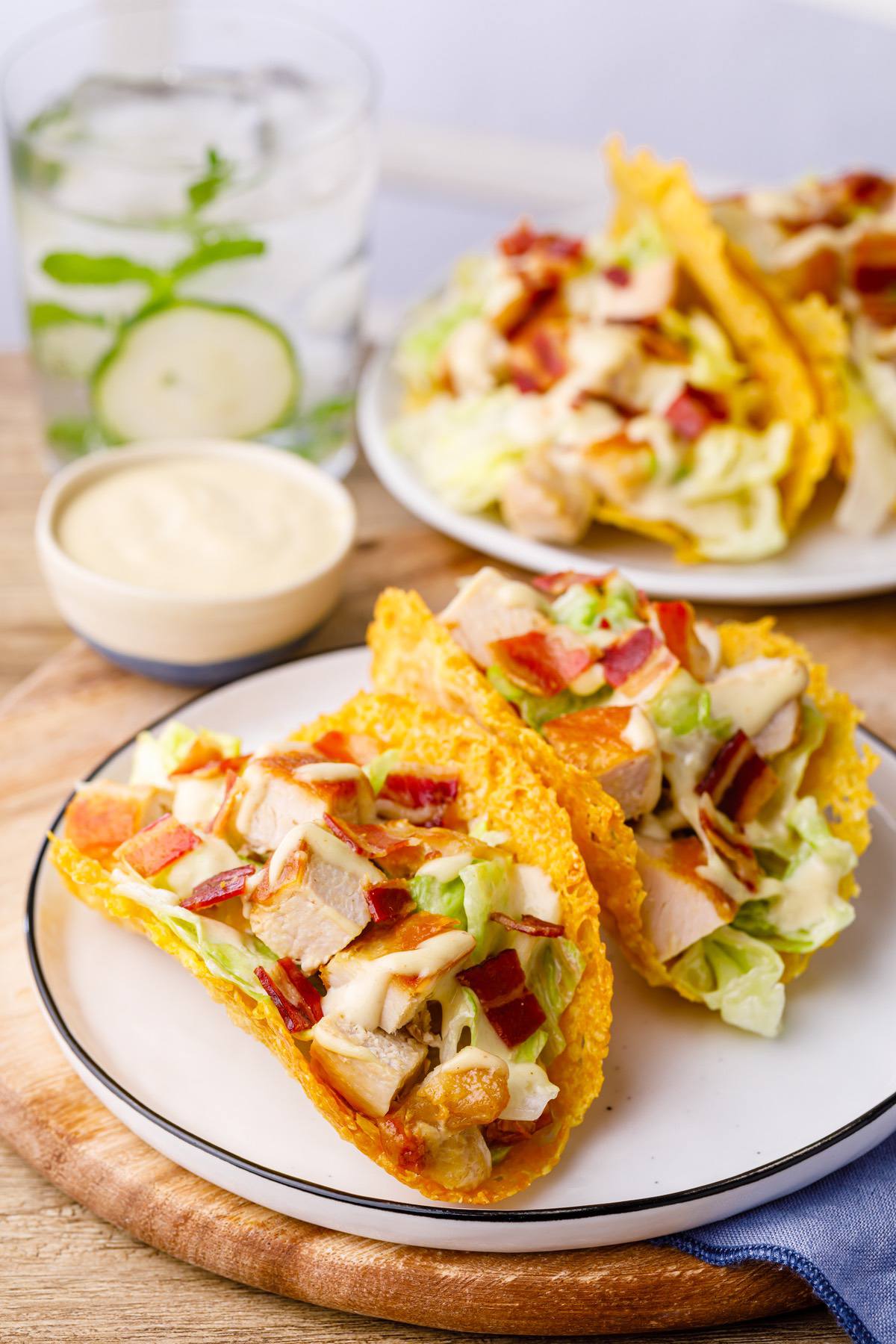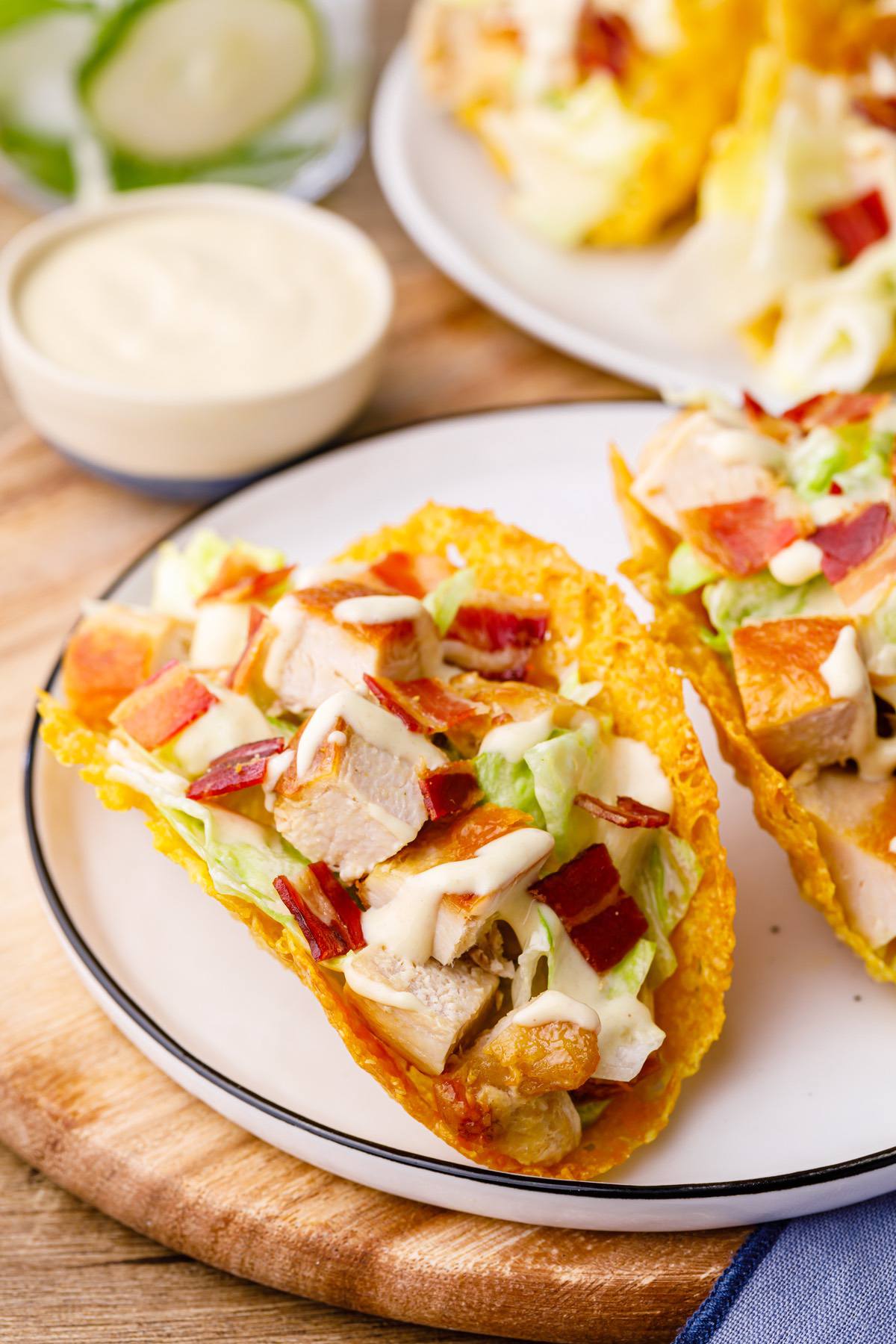 eto Chicken Caesar Salad Tacos with Parmesan Taco Shells
Author: Bree – KetoPots.com
Prep Time:15 minutes
Cook Time:5 minutes
Total Time:20 minutes
Yield:4 1x
Ingredients
For the salad:
2 grilled chicken breasts, sliced
4 bacon slices, cooked and crumbled
3 cups chopped romaine lettuce or iceberg lettuce
For the dressing:
½ cup mayonnaise
1 tbsp Dijon mustard
1 tbsp lemon juice
1 tbsp freshly grated Parmesan cheese
2 filets of anchovies
1 garlic clove, minced
salt and pepper to taste
For the tacos:
1 ⅓ cup freshly grated Parmesan cheese
Instructions
To make the dressing, put all the ingredients in a large jar. 
Blend using an immersion blender until smooth. 
Refrigerate until ready to use. 
To make the shells, preheat oven to 400°F.
Line a baking sheet with silicone mat or parchment paper. 
Place 1/3 cup piles of cheese 2 inches apart on the prepared baking sheet.
Bake in preheated oven for 5-7 minutes or until the cheese melts and turns lightly brown.  
Let the cheese cool for 2-3 minutes then using the spatula lift it up and place it over the handle of a tong or other utensils that is balanced on two cups. 
In a bowl add the chicken, lettuce and half of dressing. 
Toss to coat. 
Fill the taco shells with salad. 
Drizzle with remaining sauce and sprinkle with bacon. 
Serve immediately.
Nutrition
Serving Size:1
Calories:380
Carbohydrates:5.5g
Fat:32.4g
Sugar:.7g
Protein:15.4g
Fiber:.8g