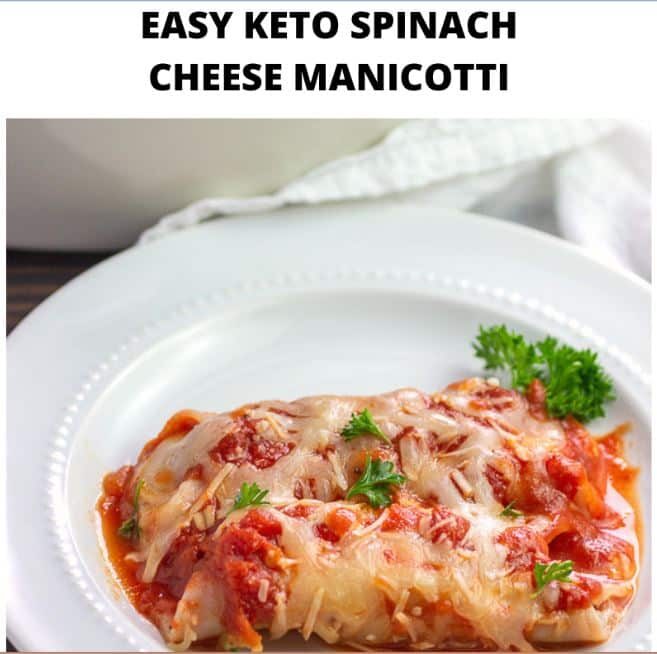 Quick to make, gluten free, and also simple and low carb. Delicious EASY KETO SPINACH CHEESE MANICOTTI Italian comfort food at it's best!
No pasta or making veggie pasta is involved and much easier to make than traditional manicotti.
In chicken deli meat slices, I rolled the spinach cheese filling and poured on marinara sauce and sprinkle with cheese and baked. Without the high carbs of pasta and a lot less tedious than stuffing manicotti shells.
My son and hubby loved it, especially loved the cheese spinach filling.
While I was making my low carb enchilada recipe, the idea to use the deli meat slices came and I thought this would also make excellent manicotti.
PREP TIME 7 mins
COOK TIME 12 mins
TOTAL TIME 19 mins
COURSE dinner, Italian, keto, low carb, manicotti
CUISINE dinner entree, Italian, manicotti
SERVINGS 4
CALORIES 402 kcal
EASY KETO SPINACH CHEESE MANICOTTI RECIPE-
INGREDIENTS:
1 cup whole ricotta cheese
1 cup shredded mozzarella cheese, divided
2 ounces cream cheese, softened
2 tablespoons grated Parmesan cheese, divided
½ teaspoon Italian seasoning
1 teaspoon garlic powder
¼ teaspoon black pepper
1 cup chopped fresh spinach
(medium to thicker types of slices) 8 slices roasted chicken or turkey deli meat slices
1 ½ cups marinara sauce (no sugar added)
DIRECTIONS:
Preheat oven to 350 °F and lightly grease/oil a baking dish(13×9 inch).
Over the bottom of the baking dish, pour ½ cup marinara sauce, Put it aside.
Combine: pepper, cream cheese, ½ cup of the mozzarella cheese, garlic powder, chopped spinach, Italian seasoning, 1 tablespoon of the Parmesan cheese, and ricotta cheese in a large mixing bowl. Mix until it gets creamy.
Down the center (lengthwise) of each chicken deli slices, place TWO tbsp. Over filling, fold the sides of the slice and just to stick closed, press down slightly.
Into the prepared baking dish, places the rolled and filled meat (seam side up or down).
Over the top of the rolls, pour remaining marinara sauce and sprinkle with remaining
Mozzarella and Parmesan cheese.
For 12 to 15 minutes, bake in the oven. Take out from oven and serve.
NOTES
*based on the products I used, all nutritional data are estimates*
Yield: 8 manicotti rolls,
Servings: 4,
Serving Size: 2 manicotti rolls,
Net carbs per serving (2 rolls): 7g-
NUTRITION
Serving: 2manicotti
Calories: 402kcal
Carbohydrates: 8g
Protein: 16g
Fat: 21g
Saturated Fat: 12g
Sodium: 323mg
Fiber: 1g
Sugar: 1g