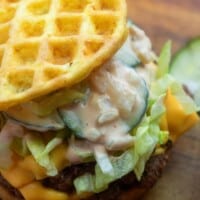 These cheeseburger chaffles taste like my favorite fast food burger, right down to the secret sauce! Feel free to double or even quadruple this recipe if you're feeding more than one!YIELD1 big mac PREP TIME10 minutes COOK TIME10 minutes TOTAL TIME20 minutes
Ingredients
For the cheeseburgers:
1/3 pound ground beef
1/2 teaspoon garlic salt
2 slices American cheese
For the Chaffles:
1 large egg
1/2 cup finely shredded mozzarella
1/4 teaspoon garlic salt
For the Big Mac Sauce:
2 teaspoons mayonnaise
1 teaspoon ketchup
1 teaspoon dill pickle relish
splash vinegar, to taste
To assemble:
2 tablespoons shredded lettuce
3-4 dill pickles
2 teaspoons minced onion
Instructions
To make the burgers:
Heat a griddle over medium high heat.
Divide the ground beef into 2 equal sized balls and place each on the griddle, at least 6 inches apart.
Let cook for 1 minute.
Use a small salad plate to firmly press straight down on the balls of beef to flatten. Sprinkle with garlic salt.
Cook 2 minutes or until halfway cooked through. Flip the burgers carefully and sprinkle with remaining garlic salt.
Continue cooking 2 minutes or until cooked through.
Place one slice of cheese over each patty and then stack the patties and set aside on a plate. Cover with foil.
To make the chaffles:
Heat the mini waffle iron and spray with non-stick spray.
Whisk together the egg, cheese, and garlic salt until well combined.
Add half of the egg mixture to the waffle iron and cook for 2-3 minutes. Set aside and repeat with remaining batter.
To make the Big Mac Sauce:
Whisk together all ingredients.
To assemble burgers:
Top one chaffle with the stacked burger patties, shredded lettuce, pickles, and onions.
Spread the Big Mac sauce over the other chaffle and place sauce side down over the sandwich.
Eat immediately.
Notes
Feel free to double or quadruple this recipe.
I find it easiest to make the Big Mac sauce in advance and then cook the chaffles while the burgers are cooking. This looks like a lot of steps, but all goes very quickly.
Nutrition Information:
YIELD: 1 SERVING SIZE: 1
Amount Per Serving:Calories: 831Total Fat: 56gSaturated Fat: 23gTrans Fat: 2gUnsaturated Fat: 26gCholesterol: 382mgSodium: 3494mgCarbohydrates: 8gNet Carbohydrates: 6gFiber: 2gSugar: 2gSugar Alcohols: 0gProtein: 65g