Free Keto Meal Plan : KETO DIET PLAN FOR BEGINNERS STEP BY STEP GUIDE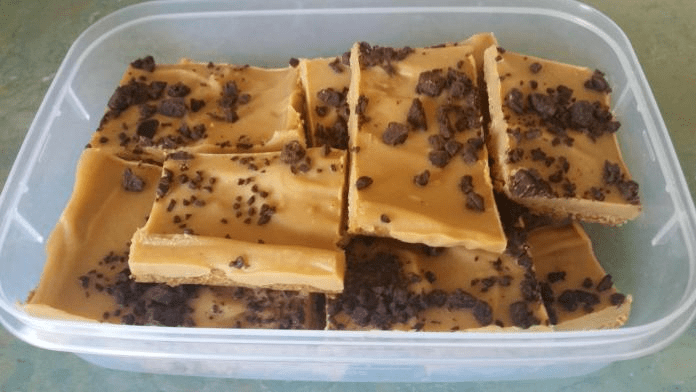 Low Carb Peanut Butter Fudge
Low Carb Peanut Butter Fudge, Before I lived in a low-carb diet, I loved and adored the peanut butter cups that I had to eat all day long and hopelessly. Well, I've missed them since then, and only today we finally made something that tastes good. And especially wonderful when I am in the diet keto!
Today I will give you the best tasting dessert you will ever taste and just 3.3 grams of pure carbohydrates per slice. I made it for my kids and it was great and special especially on weekends
I will not prolong you will let you enjoy the recipe …!
Ingredients for Low Carb Peanut Butter Fudge
1 cup Heavy Whipping Cream
2 tablespoon butter
⅓ cup powdered sweetener
1 teaspoon Vanilla extract
½ cup all natural peanut butter
⅓ cup Lily's baking chips
Free Keto Meal Plan : KETO DIET PLAN FOR BEGINNERS STEP BY STEP GUIDE
INSTRUCTIONS:
Heat the heavy whipping cream and butter in a sauce pan on medium until melted.
Whisk in the powdered sweetener until well combined, and bring the mixture to a low boil.
Continue to cook until mixture thickens and begins to turn a bit of a light brown in color.
Once thickened, remove the mixture from the heat, and whisk in the peanut butter and vanilla until smooth.
Pour the mixture into a parchment lined loaf or other small pan.
Wait for the mixture to cool for a few minutes before topping with chocolate chips so they stay on the surface.
Chill in the fridge for at least 4 hours.
Slice the fudge into 10 pieces and serve. Store remaining fudge in an airtight container in the fridge or freezer.
Free Keto Meal Plan : KETO DIET PLAN FOR BEGINNERS STEP BY STEP GUIDE
NOTE:
We have done this numerous times in the microwave, so skipping the stovetop technique is possible.
Simply repeat the procedure above with a dish that can be heated in a microwave.
Cream and butter are microwaved until they are extremely hot.
Smoothly combine powdered sugar and peanut butter.
NURITIONS: Amount Per Serving
| | |
| --- | --- |
| Calories | 290kcal |
| Fat | 19.2g |
| Carbohydrates | 3.3g |
| Proteins | 4g |
Free Keto Meal Plan : KETO DIET PLAN FOR BEGINNERS STEP BY STEP GUIDE